AlphaTest
µ
HELIX
®
Test-Probes
...

electrical contact pins

,

compliant

,

spring-loaded

,

discrete

,

fine-pitch

...



Aliases: fine-pitch & ultra-fine pitch test-probes; pogo style probes; pogo pins; compliant-probes; spring-loaded probes; transposer pins

APPLICATION:

Used in the construction of fine pitch test sockets, fine-pitch fixtures, contactors, fine-pitch Kelvin probes, rf probes, controlled impedance probes, rugged connectors for:


Testing: SoC, SiP, CSP, BGA, QFN Semiconductor Packages.
Testing: mems | mcm | hybrid | automotive| aerospace components.
Testing: RFID antennas | flex circuits | fine-pitch PC Boards.
Testing: sensors | High Density Lead Frames | read/write heads.
Testing: 0,65 or 0,5 or 0,4 or 0,25 mm arrays or grids.
Testing: high-density, fine-pitch substrates, SoC's or SiP's.
Testing: GHz range wireless and other high-speed devices.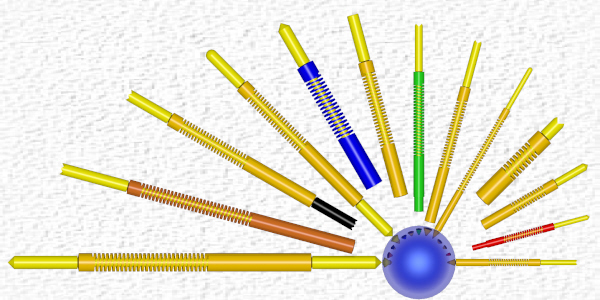 AlphaTest Corporation developed and manufactures the miniature test-probes offered on this web site. They are sold globally to the electronics manufacturing industry under the trade name AlphaTest μHELIX® Test-Probes by AlphaTest Corporation, by Fixtest GmbH. Any other manufacture or distribution of these products is prohibited through the assignment of US and foreign patents* to AlphaTest Corporation and by patents pending. Various suppliers of high-performance test sockets, high-density connectors, exotic test fixtures, and leading-edge electronic products incorporate these pogo style probes in their products to gain a technological edge. AlphaTest Corporation also supplies custom test fixtures, provides training, and shares design concepts with end-users and resellers who incorporate these spring-loaded probes into their products. These fine-pitch test-probes meet the escalating demands of StripLine, BGA, CSP, SoC, SiP, MEMS, mcm, hybrid, RFID antenna, flex-circuit, KGD, and flat-panel testing. AlphaTest μHELIX® Test-Probes offer the performance edge in discrete, compliant test-probes by offering wide-bandwidth, short electrical length, 250 µm row & column spacing and a selection of tip and body formats.
* Patent Number 5,982,187 and 6,034,532 and 3,165,066.
---